Growing Up in the Business
Growing Up in the Business
In the 5 months since I've joined the company, I've been so impressed by the incredible work done by each member of the Parks team every day. I feel lucky to be working alongside such a dedicated and dynamic group of people. I can remember climbing around soda pallets as a kid when the company was just one small warehouse at 1420 Macarthur, so it's humbling to see where we are at today.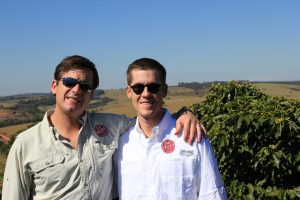 Becoming a licensed architect has been a 7-year labor of love for me. I've always enjoyed figuring out how to build things and working with materials, so it's exciting that I'll now get to work on buildings as a professional. Here at Parks Coffee, I see myself using my skills as an architect, of course, to coordinate our many building projects, but also to develop our brand, and creatively solve business problems that arise.
The thing I'm most excited about currently is our new Roastery and Tasting Room under construction in Dallas. It has huge potential to transform our brand in the coming years. I can't wait to welcome the public into our home here and show them why we're the best in the business.
Scott Parks, the younger son of Randy and Debbie Parks, joined the company in March 2017 and shares his take on growing up in a family business. Scott studied at the University of Texas at Austin and the Yale School of Architecture, earning his AIA this month.