Evolutions in Art – Exotic & Seasonal
Evolutions in Art – Exotic & Seasonal
The Parks Coffee line-up of crowd pleasing tastes is getting a bit of an update.  Two of our popular tiers, Exotic & Single-Origin and Seasonal & Limited Edition, will begin to roll out with a brand new look, which should hit customer counters in the coming weeks.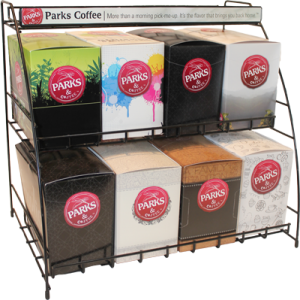 Our Exotic & Single-Origin echelon is home to distinct flavors from around the world, including 100% Colombia (Tall, Dark & Colombian or Colombian Supremo) to Guatemala Antigua (All Nighter®), beans from the Hawaiian Islands (Lei It On Me®) and a favorite of the flock, Darker Than Dark®. Exotic & Single-Origin coffees tell a story about the locations and weather patterns they experienced during the growing season. They are adept at articulating the intricacies of their environments. The leopard on our original box has moved on, to be replaced by a sensual, sophisticated, and sleek geographic pinstripe. Simplified, yet expressive.
The Seasonal & Limited Edition tier of flavored coffees features flavors that honor the spirit of each season. From Pumpkin Pie in the fall to S'Mores in springtime, five times a year we toast Mother Nature with a cuppa of decadent coffee. Featuring sweet and flirty hand-drawn doodles, our Seasonal & Limited Edition coffees are whimsical, fanciful and bursting with flavor.
We are proud to reintroduce these to our customers in the coming weeks, and rest assured, the outer packaging has changed, but your favorite blends and flavors inside remain true.